Our Attorneys
Get Legal Help Now (561) 688-5006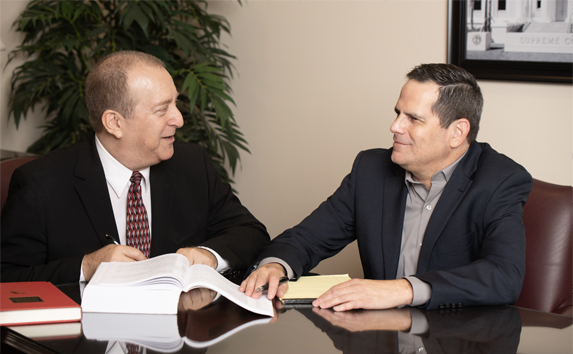 Scott Glassman
Scott Glassman has spent his career fighting for his client's rights and assisting clients in the resolution of their family law matters. Scott was born in New Jersey and has been a Palm Beach County resident for almost 50 years. After graduating from Santaluces High School, Scott attended the University of Florida, where he earned both a B.S. in Business Administration with high honors and a J.D. Scott's undergraduate major was in finance, which makes him well suited to understand the financial issues within your case. While at the University of Florida, Scott was a member of the Delta Sigma Pi business fraternity and a member of the Law School's Journal of Law and Public Policy. He has been a member of the Florida bar since 1992. Scott's reputation for working hard and paying attention to detail, and providing zealous representation has allowed him to build up his practice by focusing on getting the best results for his clients. He has gained particular experience handling financial matters, and contested child custody issues, as well as representing the State of Florida Department of Revenue in thousands of child support cases. Scott focuses his time on all family law matters and provides knowledgeable representation to clients involved in all types of divorce, such as uncontested divorces and high-asset divorces. Since graduating from law school, Scott has been an active member of his community. He has served as a Board member of Rebecca's House, a Board Member, and an officer of the Jewish Federation of Palm Beach County Young Leadership Division, and also served as a board member of Alpert Jewish Family and Children's Service.
Lean more about Scott Glassman >
Ronald L. Bornstein, Esq. of Counsel
Mr. Bornstein has more than thirty (30) years of experience handling complex marital and family law litigation and collaborative divorce matters for clients across the State of Florida. He also has extensive experience in probate and guardianship cases. He serves as a mediator, guardian ad litem, and attorney ad litem in family law cases and probate matters. Mr. Bornstein is a frequent lecturer on marital and family law topics, has several reported appellate opinions, and has argued before the Florida Supreme Court.
Mr. Bornstein has been selected as one of 2017's Legal Elite by Florida Trend, and was named the Palm Beach County Legal Aid Society's 2009 Family Lawyer of the Year. He has been recognized by the Florida Supreme Court for his service to the profession, the community and the economically disadvantaged. In June 2015, and again in June 2017, Mr. Bornstein received the Florida Bar Family Law Section's Unsung Hero Award for his service and dedication to Florida's families and the Family Law Section of the Florida Bar.